Talent show for an apocalypse with an aspectacular ending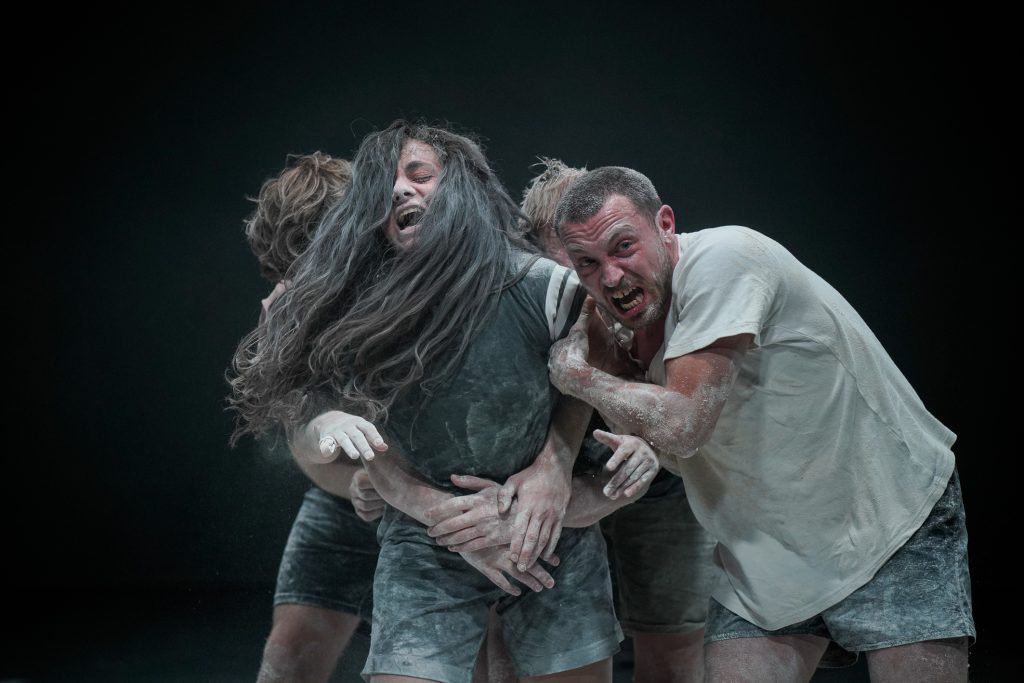 Finalist project at Venice Biennal College for Directors under35 2022
Concept, Project and Direction Paolo Panizza
Dramaturg Agnes Oberauer
Sound Artist Andro Manzoni and Stefano Mattozzi
Set and Costume Designer Blandine Granier
Assistant Director Edoardo Ferrari
With Lea Blau, Marica Mastromarino, Benedetto Patruno, Filippo Pizzocri and Ragnar Uustal
Thanks to Spazio Lambrate, Casa degli Alfieri and Mare Culturale Urbano for the artistic residencies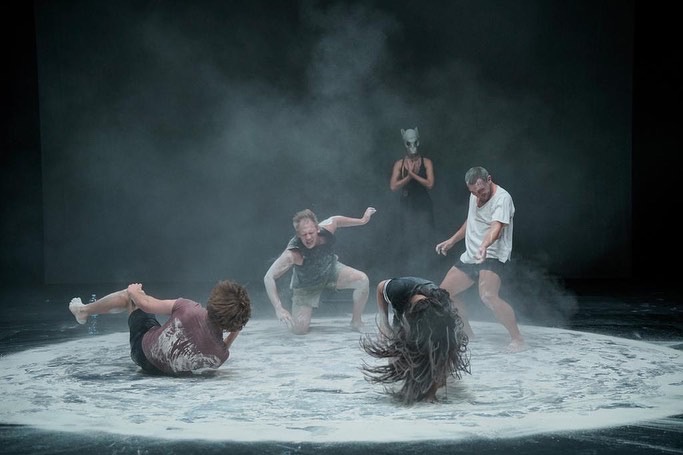 The Rats project takes its name from the experiment "Universe 25" done by the ethnologist John B. Calhoun in 1973 in order to study the consequences of overpopulation.
He created a paradise able to host 3 840 rats and to furnish them unlimited food and water.
In this envirronment protected from viruses and from temperature rise and falls, without any
predator, the only factor in mortality was aging.
The ancient staying longer, the younger couldn't access their social role anymore.
And this led to the dissolution of the social organisation and to the annhiliation of the individual through the most basic social links.
"Everything perfect
Everything safe
No need to work
No need to struggle
No need to feel
No need to fuck
And look where this has gotten us:
Mouse shit everywhere
We are drowning in shit
Congratulations, you've entered a paradise of shit"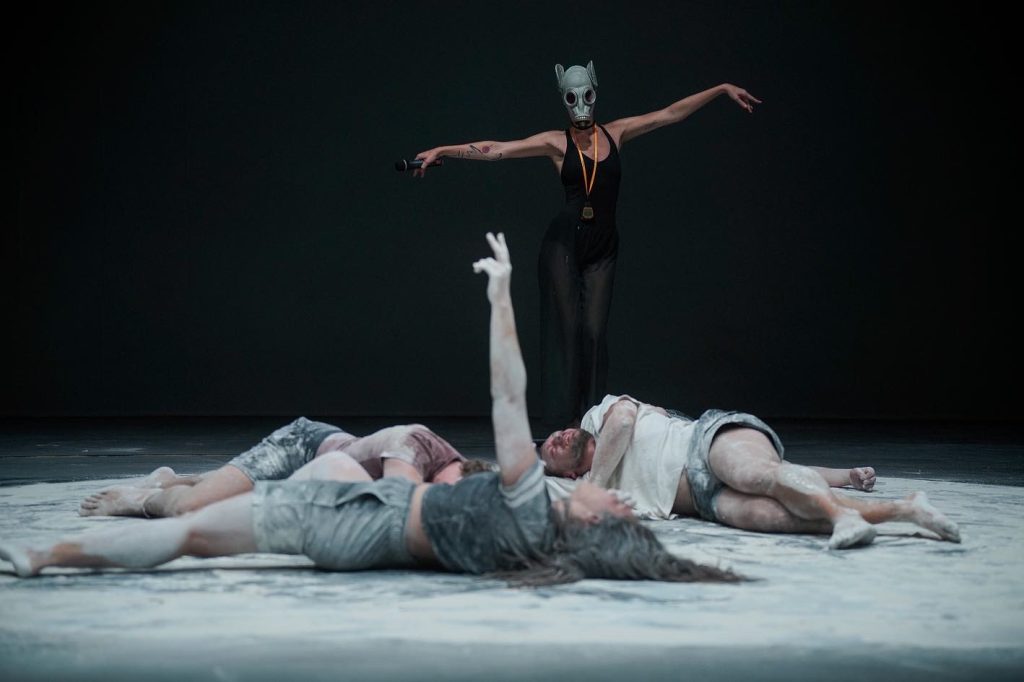 ἀποκάλυψις [-εως, ἡ], feminine noun.
Unveiling, take off a veil, manifestation, revelation.
Starting point: the experiment Universe25 as a fairytale to be told as story in a circle, as a moment of community.
A fairytale and a bit of a tale too, said by an incorporated voice outside field, which unveils, admonishes, from hope and condemnation.
Judge, like a God, guide and illustrates the rules of a game to four participants of a talent show, without ever manifesting itself.
A presenter documents and acts as a through as a messenger between God, them and the public.
Where is it? in a theater that becomes Escape room from its own constructs.
Visible walls, lights and trusses et al center a circle of white powder, bone dust, which flakes off, reduces the space of who can continue to to play. Staying out of it is equivalent to losing one's place in this game and the show must go on.
A webcam looms over them which documents the signs of the action on the dust, sometimes cryptic, other real drawings that carry on the narration on multiple levels. The audience, a bit voyeur, observes multiple perspectives: both the frontal scene and a live bird's eye video from a camera, projected in the background; as in a Greek choir, the audience becomes participant and inquisitor at the same time.
In this ring the voice guides them in a series of tests, concrete tasks, which leads us to discover, to reveal a moral and physical desert that advances.
In a party atmosphere, the participants left at the mercy of orders and unable to control external phenomena precipitate, disintegrate, reconcile, love and finally they die, at the fast pace of that yes, yes, yes, flag of a fake free will.
An infernal talent show in which the competitors have one goal: to adapt and survive an increasingly fastpaced society. A game of chairs that advances in rhythm sustained. Where places are few and fewer and fewer. A Russian roulette to which everyone they must and want to participate. A game that changes and reveals itself to make us manifest.
In the center? the dreams and fears of the actors. Here human beings, stripped of their being actors, who try in every way to escape from this Escape room that is the theater or that is a den insecure.
Who will win?